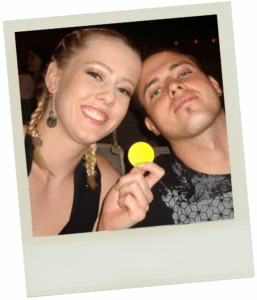 Irregular4Christ Ministries was co-founded in 2012 by husband and wife, Dusty and Krystal Marshall. Both coming from backgrounds of addiction the Marshall's wanted to help people struggling with similar issues.  They began traveling the country inspiring people with hope by sharing testimony and music speaking on the transformation God had done in their lives. 
What began as a music and recovery-based ministry soon transformed in 2014 with the news of their first child being born. At 20 weeks pregnant, their first child was diagnosed with Spina Bifida and a life-threatening heart issue.  Doctors encourage the Marshall's to have an abortion many times, as they were told their daughter might not walk, have quality of life, or even survive.  Because of their faith in God and His word, having an abortion was unthinkable because they knew it was murder. God ended up miraculously healing Amnesty's heart at birth! Amnesty had both spine and brain surgery in her first week of her life and spent 3 weeks recovering in the NICU.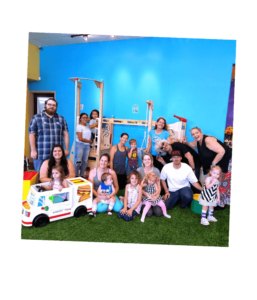 After Amnesty was released from the hospital, the Marshall's knew they needed to hit the road again.  They wanted to share their hope filled testimony of choosing life with other parents to inspire them to do the same.  God has given hope to over 24,000 people at 300 locations through their ministry travels.   God has also reached millions of parents through our testimony by featuring it on Fox News, NBC, TBN, and Focus on the Family.
During their ministry travels God would open the Marshall's eyes to the great American Holocaust taking place in their Nation.  Over 70 million babies and counting have been murdered through abortion. Through watching End Abortion Now's videos on Apologia Studios' YouTube channel, Dusty and Krystal would see Christians preaching the Gospel at abortion clinics trying to rescue babies from death.  They knew God was calling them to do the same.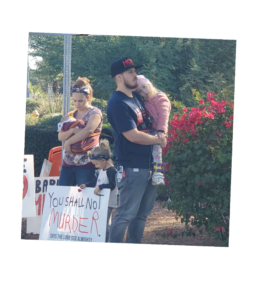 In the last 5 years the Marshall's have spent thousands of hours preaching the Gospel at abortion clinics seeing God use it to rescue 10 babies.  They continue to preach weekly at abortion clinics and are using their experience to teach other Christians to be effective in the fight to end abortion.
The Marshall family has grown over the years.  As their family grows, so does the ministry because they are dedicated to training their children to be involved in all aspects of pursuing God and His calling to rescuing babies from abortion.
To God be the Glory.